Back
Feb 21, 2020
Safe haven flows to continue until coronavirus contained – Reuters
Little reason to call a top on the USD at present - trend is strong – Reuters
Safe haven flows to continue, until the coronavirus comes under control – Reuters
Charts are bullish, momentum studies, 5, 10 & 21 DMAs trend north – Reuters
The US is currently flat, after closing up 0.3% for a 13th straight higher daily high while the coronavirus hits Asian growth, safe-haven flows flock to USD, Reuters reports.
"The dollar was sucking up funds across Asia on Thursday after a steep and sudden slide in the Japanese yen called into question its safe haven status and spooked investors out of local assets.

Everything from the Australian dollar to the Indian rupee were under fire as concerns about the impact of the coronavirus drove money to the U.S. currency.

China reported a drop in new infections on Thursday, but scientists warned the pathogen may spread more easily than previously believed as two elderly passengers from a ship quarantined in Tokyo became the latest to die."
Meanwhile the People's Bank of China cur rates, but that did little to "steady the skittish mood", Reuters reports. More on that here:
The FXStreet Senior Analysts have been discussing the state of play and the events which have propelled the greenback trough critical resistance levels at the start of this year. Follow the discussing here: US Dollar Strength: About more than the coronavirus' contagion
Key notes
Little reason to call a top on the USD at present - trend is strong.
Safe haven flows to continue, until the coronavirus comes under control.
DXY monthly chart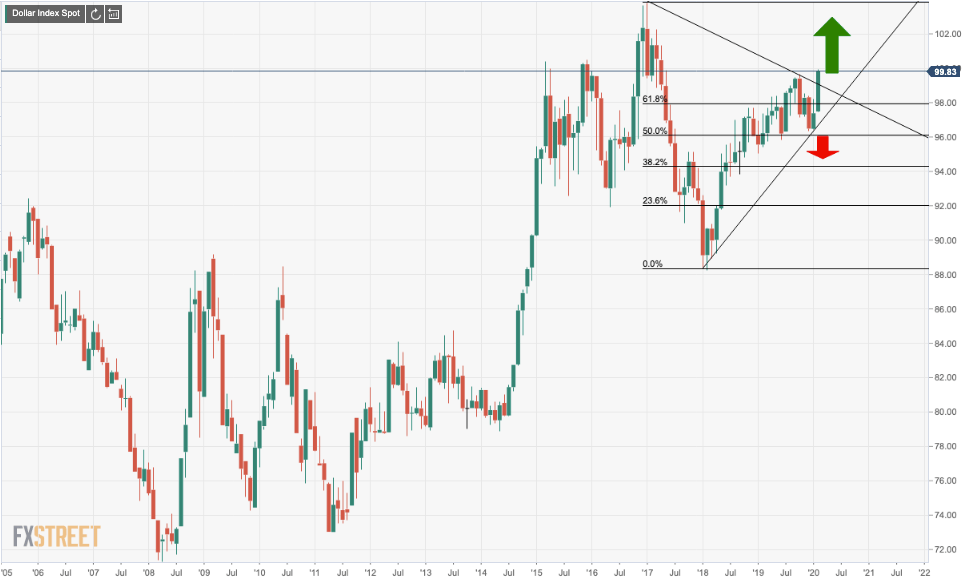 Charts are bullish, momentum studies, 5, 10 & 21 DMAs trend north.
99.67 NY low and 99.91 London high are initial support-resistance.